Ricoh's Production Printing Solutions
The equipment and solutions you need to gain a competitive advantage.
Ricoh production printers offer a range of high-speed, high-capacity printers offers robust solutions for commercial printers and in-house departments alike. Whether you're after a continuous feed printer for high volume invoice runs or a large format device for exhibition graphics, the energy-efficient range provides superior image quality and clever features for specialized tasks.
Ricoh Production Printers – Cutsheet Monochrome
RICOH Pro 8310s / 8320s / 8310 / 8320
The RICOH Pro 8310/8320 production printer and RICOH Pro 8310s/8320s multifunction production printer are ready to help you grow your monochrome volumes or smoothly transition short-run offset printing jobs to a streamlined digital workflow. Capture share in the just-in-time manufacturing documentation market, or the growing "book of one" publishing segment. With options for end-to-end document production, inspired image quality and reliable performance, these systems provide the innovation and automation to bring new opportunities to the forefront in your printing organization.
RICOH Pro 8300s
The RICOH Pro 8300s Sheet-fed Digital Press lets you focus on printing, capturing and sharing the vital information your organization relies on to get the job done. Featuring a compact footprint, the system offers a user-friendly interface to make printing, copying and scanning documents fast and hassle-free for even novice users. For educators and enterprises alike, the RICOH Pro 8300s satisfies your need for reliable, cost-effective monochrome printing that's always ready when you need it.
Ricoh Production Printers – Cutsheet Color
RICOH Pro C9200/C9210 Graphics Arts Edition
Pursue your next stage of growth with the RICOH Pro C9200/C9210 Color Sheet-Fed Printers. They offer the essential capabilities for successful offset-to-digital migration: quality comparable to offset, high reliability for long runs, generous paper capacity, expansive media support and ease of use. Add optional software and inline finishing options, and you can produce many applications in-house using one device. Suitable for commercial printers, service bureaus and enterprise in-plant operations, these digital presses allow you to meet changing customer requirements.
RICOH Pro C7210X/C7210SX/C7200e  Graphics Arts Edition
Pursue profitable growth with an affordable, innovative color digital press. The five- and four-station RICOH Pro C7210x/C7210sx/C7200e Graphic Arts Edition offers both MFP and printer models that deliver superb image quality, oversize print options and diverse media choices. The 5th Color Station lets you go beyond CMYK to produce unique, compelling materials that can command premium prices. Advanced workflows and performance-enhancing capabilities help you fulfill demanding deadlines while keeping operational costs low.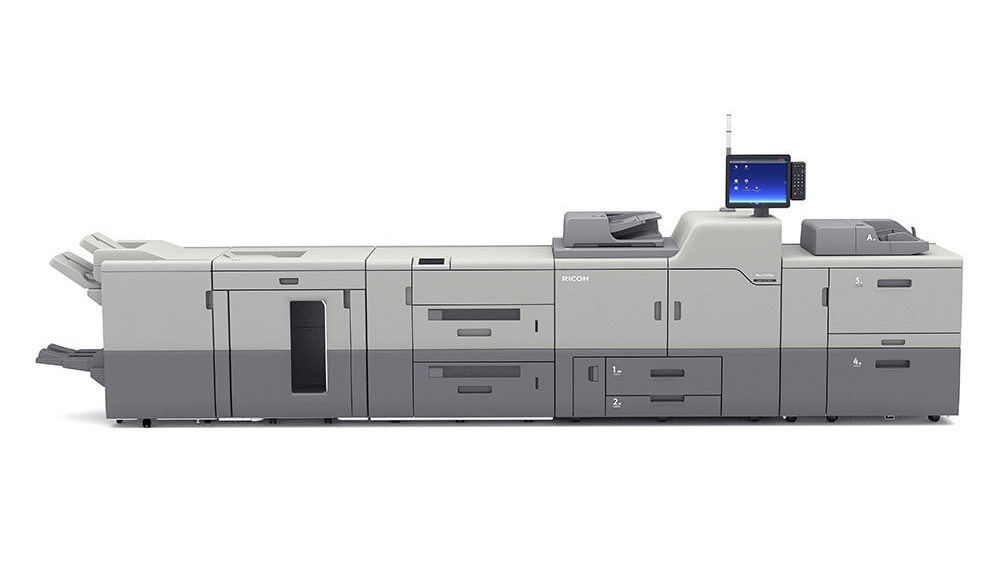 RICOH Pro C7210S/C7200S/C7200SL
Keep more types of jobs in-house with the RICOH Pro C7210S/C7200S/C7200SL. These multifunction models deliver superb quality that supports color and brand consistency. Expansive media choices and in-line finishing options give your in-plant operation or centralized reproduction center (CRD) the ability to fulfill simple and sophisticated print orders. The user-friendly operation panel, efficient workflows and advanced automation features help you meet strict deadlines and improve productivity.
RICOH Pro C5200s/C5210s Series
With the compact, versatile RICOH Pro C5200s/C5210s, you can improve customer experience, increase productivity and lower printing costs. These multi-function digital color production systems provide expansive capabilities that are ideal for in-plants, corporate reprographics departments (CRDs), franchise printers and commercial printers. Meet simple-to-complex customer requirements with vibrant color, an array of media choices and multiple finishing options. Earn rapid ROI by producing brochures, direct mail, manuals, point-of-sale displays, oversize items, books and other materials quickly and economically.